If you are interested in raising butterflies or creating a butterfly garden at your school, then you may have already heard about a butterfly school kit. A butterfly kit is simply a habitat that allows you to safely raise butterflies from baby caterpillars.
You can usually purchase kits for use at home . In those kits, you generally get about five to ten caterpillars to play with. But when you buy a school kit, you'll get far more caterpillars to work with. This is because these kits were built for larger groups of people, namely students.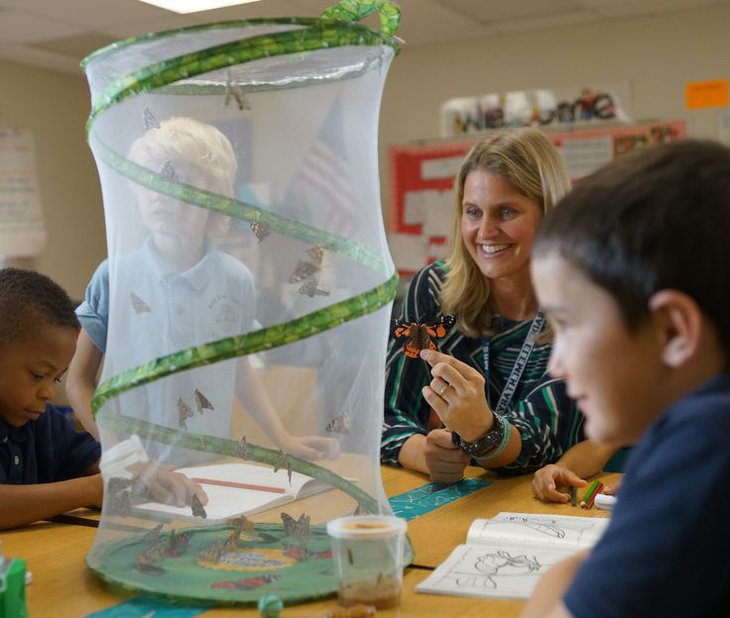 Raising butterflies at school is a great idea. Not only are you exposing the kids to a truly amazing experience, but you are also providing them with a unique educational opportunity. It's also an excellent way to get students working together. And just imagine the sense of accomplishment they will feel! They'll know that they have drastically increased the butterflies' chances of living – sometimes by up to 90%.
Here are a few butterfly school kits for you to consider for your school or large group projects. There's even a butterfly kit refill package if you want to do repeated projects.
Insect Lore Classroom Butterfly School Kit
This butterfly school kit by Insect Lore was developed specifically for use in the classroom. If you want something affordable that can be used in a classroom setting, then this kit might be for you. It is ideal for larger groups, as the kit comes stocked with up to 33 live caterpillars.
What you get with this school butterfly kit:
This school kit comes stocked with a mesh butterfly habitat. This allows your students to easily view the transformation process of the butterflies . The mesh habitat measures up to about 2 feet in height. It has collapsible sides, and you can use it as many times as you like.
When you buy this butterfly school kit, it ships with up to 33 live caterpillars. The package also comes equipped with pre-made food for the caterpillars.
There's one other newly added feature you should pay attention to. The kit now comes with Velcro dots for attaching the chrysalis station to the inside of your mesh habitat.
Why you should consider this butterfly school kit:
The kit comes with a decently large mesh habitat. This is ideal as it makes it very easy for you and a group of students to comfortably observe the butterfly transformation process. The larger kit also provides more than enough space to house all 33 butterflies easily.
Also, the mesh habitat has collapsible sides, which makes it very easy for you to store once you've finished your project. Following that, it's worth noting that the habitat is reusable. So, you are free to buy more caterpillars as many times as you like while still using the same kit.
The large number of caterpillars you get with this kit is what makes it ideal for class activities. With up to 33 caterpillars being shipped to you, each student can have his own butterfly at the end! Not only that, but you don't have to worry about feeding the baby caterpillars as food is readily available in the kit.
Also, the newly added Velcro dots in this kit should be enough to convince you to give it a shot. This comes in very handy for a class project. With the Velcro dots, you can easily stick the lid with the chrysalis in the mesh habitat. And once the butterflies emerge, they will be well contained in the habitat, making it more convenient for students to watch.
What other customers are saying about this butterfly school kit:
For the most part, customers seem satisfied with this product. Many customers agreed that it is definitely a fun experience in a classroom setting. Most customers reported that a good amount of the caterpillars survived the transformation.
One customer mentioned that the bigger cage was a really nice treat. However, the customer also noted that it was a bit difficult to evenly distribute the food to each of the cups for the caterpillars; there was a lot of guessing involved.
There were at least two customers reporting that the majority of the caterpillars were mostly dead. One said that about half of them were dead upon arrival. The other mentioned that only 4 of the 33 caterpillars made it to the chrysalis stage. Of course, Insect Lore will send you new caterpillars if less than half of them make it to adulthood, so this shouldn't be too much a concern.
Nature Gift Store Live Butterfly Kit
If you need something that's slightly more affordable and still effective, then this Nature Gift Store Live Butterfly Kit might be the kit you are looking for. Not only is this kit slightly less expensive than the previously mentioned model, but it still has a decent number of caterpillars for a group of students.
What you get with this school butterfly kit:
When you order this kit, it is shipped directly with up to 30 live caterpillars, allowing you to start your project immediately. Not only that, but your kit will arrive complete with ready-made food for the caterpillars and 30 cups – one cup per student.
Your kit will also include a mesh cage up to 18 inches in height. The cage has collapsible sides, making storage a breeze, and can be reused. Also, there is a zipper closure on this cage providing easy access to the critters inside.
A few other things you'll get are a mister, a butterfly feeder, an eyedropper, and sugar. This kit also includes a detailed manual giving instructions on how to keep the insects safe and improve your success rate.
Why you should consider this butterfly school kit:
One big reason you should consider this kit is that the caterpillars are shipped with the kit. So, there's no need for you to wait for the caterpillars to be shipped separately at a later date. You can start your project with the kids as soon as possible.
Also, Nature Gift Store guarantees at least 20 caterpillars will turn into butterflies. Just ensure the temperature in your area remains between 40 and 85 degrees Fahrenheit at all times.
The 18-inch mesh cage makes viewing the butterflies very convenient. Both you and your students can easily watch the metamorphosis process with ease. Though this cage is slightly smaller than the previously mentioned option, it is still more than enough to house 30 butterflies comfortably.
The reusable, collapsible cage is also very convenient. Once you are done, just collapse the sides and store the cage in a cupboard or cabinet. Another project in a few days? No problem. Just order your caterpillars and pull out your cage from storage, and you will be ready to go.
The butterfly feeder and eyedropper makes it very simple for you to feed the newly formed butterflies. And the child-friendly user manual provides clear instructions with pictures that even younger kids can understand.
What other customers are saying about this butterfly school kit:
Many customers reported that they were very pleased with this kit. Quite a number of them pointed out that all 30 caterpillars successfully transformed into butterflies despite their expected mortality rate.
There was one customer that seemed particularly disappointed though. She mentioned that around 3 of the caterpillars arrived dead. Also, 6 of them died shortly after, and the rest died somewhere along the process. Curiously, though, she gave the product an average 3 star review. Maybe it was because the company replaced her caterpillars according to their guarantee.
Customers who bought the kit for a school said that it's a big hit in a group setting like that. Students were truly excited. There was one customer who bought it for friends and family (of over 50 people!), and she agreed that it was a fantastic experience.
Nature Gift Butterfly Kit Refill
Nature Gift offers a butterfly kit refill package for school kits . Not only is this package most affordable, but it is very convenient. You just buy the full butterfly kit, and then buy as many refills as you need for your projects. And the best part is that the package is shipped to you immediately.
What you get with this school butterfly kit:
When you order this package, you get up to 30 live, painted caterpillars shipped to your school. The package contains 2 cups; each with 15 caterpillars. Everything you need to rear the baby caterpillars is included except for the mesh cage, which you would already have.
Thirty small cups are shipped to you, so each student can have one caterpillar and one cup for feeding. The food for the caterpillars is also sent to you. So, all you need to do is separate the food among the 30 caterpillars.
This kit also includes a butterfly feeder, eyedropper, mister, and sugar for feeding the new butterflies. It comes with an instruction manual that the students can easily understand. And this item is shipped through USPS within 4 days of ordering.
So literally, all you need to do is transfer your critters into a cage and get started on that project.
Why you should consider this butterfly school kit:
This package contains 30 live caterpillars. This is ideal for a school project as it allows each student to get his or her own caterpillar to raise. Also, the caterpillars are shipped directly to your school, so you can get started on your project immediately.
Healthy, ready-made food is also included in this kit for the baby caterpillars. And there's more than enough for all 30 critters. So, there's no need to concern yourself with making caterpillar food or collecting plant leaves. Just place the critters and their food in a cage, and watch them grow!
The kit also comes complete with 30 small cups – one for each caterpillar. This makes it very easy for each student to raise his or her own butterfly. Just assign one cup and one caterpillar to a student, share the food evenly among them, and then get moving with that project. It's that simple.
One other reason you should consider this package is that it comes equipped with all that you need. It really does. Everything that's needed to safely raise your butterflies is included. This includes a feeder, eye dropper, mister, and sugar. All you need is a cage. That's it.
What other customers are saying about this butterfly school kit:
Many customers mentioned that they were satisfied with this package. Most reported that all or the majority of their butterflies survived the metamorphosis process. Most of the critters also made it to adult butterflies.
One customer explicitly stated that he fully recommends the seller as well as the product. He did mention that the packaging could be of better quality as his arrived a bit squashed, making him a bit concerned for the caterpillars inside. To his amazement, though, all of them were alive. He went on to give the product a 5-star review.
Another customer, however, noted that only 2 of the 30 caterpillars made it to the chrysalis stage. The customer compared the product with the similar product from Insect Lore and reported that Insect Lore's product was of much better quality. All their caterpillars made it to chrysalis stage. Either way, both companies will replace your caterpillars if less than half make it to adulthood.
What to Do with Your Butterflies after They Hatch?
It's an amazing experience for kids to watch their butterfly hatching from its chrysalis. You can add to that amazement by keeping the butterflies in their mesh habitat and adding fresh flowers and milkweed to the cage.
The butterflies will soon lay their eggs on the milkweed. Then, in a few days, the kids will see another type of butterfly hatching. The caterpillars will hatch out of their eggs. You can continue to raise the caterpillars into adults as you did previously for as many generations as you like.
When it's time to release the butterflies, make sure you do it in an area with plenty of milkweed and when the temperature remains above 55 degrees Fahrenheit. The butterflies will recognize their new home and after they migrate at the end of the season, they will return to your area to continue their population.
Conclusion
Raising butterflies from caterpillars is a truly amazing experiencing. But doing it with a group of school children can make the experience even more exciting. Not only is it fun for them to watch, but it also teaches them responsibility and gives them a sense of accomplishment.
Taking on such a project with a classroom filled with students requires proper equipment though. This is why you should consider using a butterfly school kit.
Any of the butterfly school kit models we mentioned above comes with everything your students need for their project. And with the larger number of caterpillars, each student can accept responsibility for one critter.
Also, with the reusable habitats available, you can conduct multiple projects. Simply buy a butterfly school kit refill package and continue with your projects or raise the butterflies you get through multiple generations.